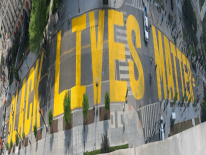 How We Advance Racial Equity (The Mayor's Office of Racial Equity, within the OCA, shares the same theory of change and vision as the Council Mayor's Office of Racial Equity).
ORE normalizes racial equity by:
Being intentional about understanding and meeting the needs of people marginalized by systemic and institutionalized racism;
Hiring staff that is reflective of the racial diversity of the city;
Facilitating and leading racial equity training; and
Creating internal support within and across the Executive.
ORE operationalizes racial equity by:
Developing racial equity tools;
Collaborating with agencies in the development of racial equity action plans;
Ensuring racial equity in all government operations and practices; and
Ensuring policies, procedures, and actions do not exacerbate racial inequities and are intentional to repair historic harms.
ORE invests in building a racial equity infrastructure by:
Helping build management capacity and organizational infrastructure to enable diverse stakeholders to work toward a shared vision of racial equity;
Community building through centering community, leveraging stakeholder collaborations, and leveraging local institutional partnerships;
Influencing and creating a well-informed and civically engaged community; and
Including Black, Brown, and other marginalized communities in the decision-making processes.
Racial Equity Training
ORE collaborates with the DC Department of Human Resources and the Office of Human Rights on racial equity training for government staff.
Interagency Committee on Racial Equity
The purpose of the Interagency Committee on Racial Equity (ICRE) is to provide ongoing support, guidance, and feedback on the work products of the ORE. For the District to have greater accountability to the community and work to decrease racial disparities, the ICRE will provide input and advice for the successful development and implementation of racial equity plans, tools, and resources. This will include communicating the goals of ORE and assisting the office with the development of guidance material that support DC government agencies with the implementation of racial equity operational and budgetary activities. See our list of partners.
Racial Equity Pilot Cohort
The ORE is working with 12 District agencies to pilot racial equity tools, complete a departmental assessment of racial equity, and develop a racial equity action plan. See the list of partners.
Racial Equity Indicator Project
The ORE is excited to partner with the MITRE Corporation on the creation of an actionable, outcome-oriented measurement and data strategy to enable the acquisition of DC's first racial equity dashboard.
Racial Equity Data Standards Pilot
Collecting and analyzing high-quality demographic data on program and policy outcomes for District residents is essential for measuring both the current state of racial equity and our progress toward achieving our racial equity goals. However, agencies' ability to collect, store, and analyze race and ethnicity data differs widely based on their unique missions, reporting requirements, and legal contexts. Over the course of this yearlong pilot, ORE is collaborating with four District agencies to develop guidance on race and ethnicity data collection and analysis. The Lab @ DC and the Office of the Chief Technology Officer's Data Team will serve as thought partners.
Task Force on Automated Traffic Enforcement Equity & Safety
The Automated Traffic Enforcement (ATE) Task Force was established in March 2023 by Mayor's Order 2023-046 and is co-chaired by the Chief Equity Officer and the Deputy Mayor for Operations and Infrastructure. The Task Force is an advisory body that will research and provide recommendations on the District's ATE program. One of the Task Force's main goals is to recommend ways to lessen potentially inequitable effects of ATE fine, penalty, and enforcement systems on individuals of varying household incomes while maintaining the public safety effectiveness of ATE and other moving violation programs.
For meeting dates and additional information, please visit the Task Force's webpage.